Over the years The Healing Barn and Hilton Herbs have had several requests for all natural remedies for Kitties.  There was not much available for cats when it came to all natural remedies, until now!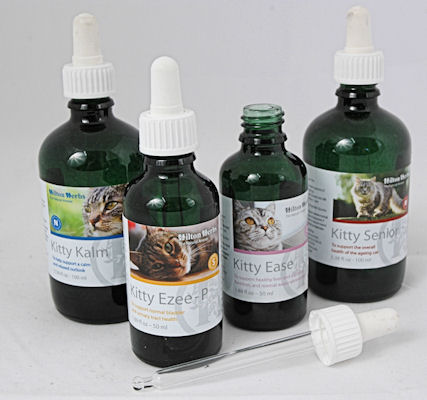 Hilary Self along with Tim Couzens has created an All Natural Kitty Line!  The Healing Barn is now offering the following products for cats:
Kitty Ezee P. – Feline Idiopathic cystitis, sand, gravel, general urinary tract inflammation.
Kitty KD – Renal problems, kidney disease.
Kitty Mew'n – General Immunity, cat flu, to help with rescue cats whose immunity may be low or compromised, use in convalescence after illness.
Kitty Ease – this is for constipation
Kitty Komfort – this is for irritable bowel, diarrhea or any digestive inflammation. The herbs in this are also aimed at the immune response as IBS in cats does have an auto immune component.
Kitty Kalm – for rescue cases, stressed anxious cats, re-housed, when introducing new cats into the home, for showing cats to help reduce the stress of competition.
Kitty Senior – for the older cat to support their immunity, heart, digestion, liver, kidneys, mobility, constipation, circulation.
While The Healing Barn is in the process of adding this new line to our website, you can call for more information at 1-877-300-2638.