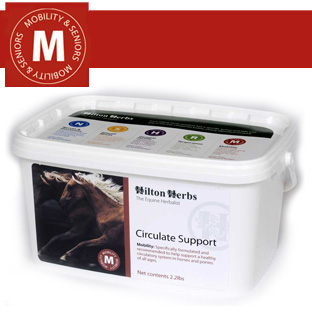 Hilton Herbs Circulate Support was originally formulated for Hilton Herbs by their consultant Homeopathic Vet, this mix has proved tremendously effective for the support of a healthy and efficient circulatory system, in horses and ponies of all ages.
If necessary use Hilton Herbs Circulate Support in conjunction with the product Releaf Gold.
Hilton Herbs Circulate Support Contains: Prickly Ash bark , Bilberry fruit, Chamomile flowers, Nettle leaf, Hawthorn flowering tops, Celery seed, Burdock root.
Hilton Herbs – The Natural Answer For Optimum Mobility

Listed in the following pages are a selection of Hilton Herbs dry and liquid herbal products, plus topical lotions and homeopathics to help support healthy supple joints, muscles and connective tissue in horse or ponies, whatevertheir age or activity.
Click Here For Hilton Herbs Equine Mobility Products
Hilton Herbs Circulate Support – Supports Healthy and Efficient Circulatory Systems
HOW MUCH DO I FEED?

HOW LONG DOES EACH SIZE OF HERBS LAST?

SUGGESTED DOSAGES FOR DRY HERBS:

UP TO 12.2 hh – 1 SCOOP DAILY
12.2 hh – 14.2 hh – 2 SCOOPS DAILY
14.2 hh – 15.2 hh – 3 SCOOPS DAILY
15.2 hh – 16.2 hh – 4 SCOOPS DAILY
16.2 hh AND ABOVE – 4-5 SCOOPS DAILY

ESTIMATED – BASED ON USAGE :

2.2 LB TUB – 4 WEEKS
4.4 LB TUB/BAG – 8 WEEKS
11 LB TUB/BAG – 6 MONTHS
**Usage Based on An Average 15hh horse.
Hilton Herbs Circulate Support – Supports Healthy and Efficient Circulatory Systems