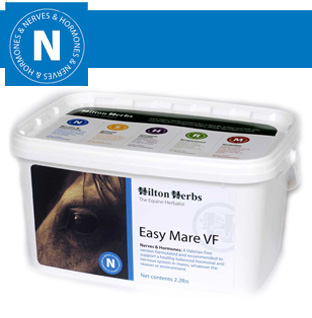 Hilton Herbs Easy Mare VF – When a Valerian Free mix is required.
Hilton Herbs Easy Mare VF is formulated specifically to help support a balanced hormonal and nervous system in mares throughout the year, throughout her season and whatever the environment.
We have found that some geldings or stallions can also benefit from this mix.
Hilton Herbs Easy Mare VF Contains: Vitex agnus castus seed, Chamomile flowers, Yarrow herb, Lemon Balm herb, Lime flowers. Cramp bark, Bruised Milk Thistle seed.
Hilton Herbs – The Natural Answer For Nerves & Hormones

Hilton Herbs' range of dried and liquid herbal mixes, homeopathics, sprays, and Bach Flower essences will help you support your pet, whether it is highly strung, nervous, over-excitable, hormonal, a show animal with competition nerves, a pregnant mares or a rescue case.Valerian free blends are also available.
Click Here For Hilton Herbs Equine Nerves & Hormone Products
Hilton Herbs Easy Mare VF -Balanced Hormonal & Nervous System – Valerian Free
Code:
Size:
Price:
Items:
(70070)
2.2 lbs Tub
$54.00
 (70076)
4.4 lb Tub
$96.00
HOW MUCH DO I FEED?

HOW LONG DOES EACH SIZE OF HERBS LAST?

SUGGESTED DOSAGES FOR DRY HERBS:

UP TO 12.2 hh – 1 SCOOP DAILY
12.2 hh – 14.2 hh – 2 SCOOPS DAILY
14.2 hh – 15.2 hh – 3 SCOOPS DAILY
15.2 hh – 16.2 hh – 4 SCOOPS DAILY
16.2 hh AND ABOVE – 4-5 SCOOPS DAILY

ESTIMATED – BASED ON USAGE :

2.2 LB TUB – 4 WEEKS
4.4 LB TUB/BAG – 8 WEEKS
11 LB TUB/BAG – 6 MONTHS
**Usage Based on An Average 15hh horse.
Hilton Herbs Easy Mare VF -Balanced Hormonal & Nervous System – Valerian Free