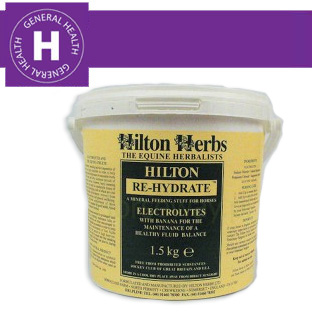 Hilton Herbs Re-Hydrate Electrolytes Helping your horses body maintain the correct balance of precious electrolytes is vital.
Hilton Herbs has added tasty banana powder (rich in potassium) to a balanced blend of essential minerals and trace elements producing a palatable product that can be added to food or dissolved in drinking water.
Does NOT contain Sodium Bicarbonate
Hilton Herbs – The Natural Answer For General Health

In addition Hilton Herbs can provide a diverse range of products formulated from plants found both on the land and in the sea that will help your horse maintain optimum health and vitality throughout its life.
Click Here For Hilton Herbs Equine General Health Products
Hilton Herbs Re-Hydrate – Supports Electrolyte Balance
Discontinued by Manufacturer
HOW MUCH DO I FEED?

HOW LONG DOES EACH SIZE OF HERBS LAST?

SUGGESTED DOSAGES FOR DRY HERBS:

UP TO 12.2 hh – 1 SCOOP DAILY
12.2 hh – 14.2 hh – 2 SCOOPS DAILY
14.2 hh – 15.2 hh – 3 SCOOPS DAILY
15.2 hh – 16.2 hh – 4 SCOOPS DAILY
16.2 hh AND ABOVE – 4-5 SCOOPS DAILY

ESTIMATED – BASED ON USAGE :

2.2 LB TUB – 4 WEEKS
6.6 LB TUBS – 8 WEEKS
4.4 LB TUB/BAG – 8 WEEKS
8.8 LB TUB – 12 WEEKS
13.2 LB TUB – 18 WEEKS
11 LB TUB/BAG – 6 MONTHS
**Usage Based on An Average 15hh horse.
Hilton Herbs Re-Hydrate – Supports Electrolyte Balance