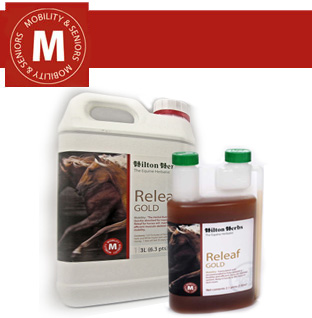 Hilton Herbs Releaf Gold is the same effective herbal blend that you have come to expect from Hilton Herbs.
Generous concentrations of herbal tinctures ensure maximum bio- availability and quick absorption to help support a healthy and efficient musculo – skeletal system.
Hilton Herbs Releaf Gold can be used confidently at any time for horses with even the most delicate digestions. Keep it handy in the barn or tack room.
Hilton Herbs Releaf Gold Contains: 1:3 tinctures of – Devils Claw root, Meadowsweet herb, White Willow bark with Apple Cider Vinegar & Honey.
Hilton Herbs – The Natural Answer For Optimum Mobility

Listed in the following pages are a selection of Hilton Herbs dry and liquid herbal products, plus topical lotions and homeopathics to help supporthealthy supple joints, muscles and connective tissue in horse or ponies, whatevertheir age or activity.
Click Here For Hilton Herbs Equine Mobility Products
Hilton Herbs Releaf Gold – The Natural Pain Reliever
HOW MUCH DO I FEED?

HOW LONG DOES EACH SIZE OF EQUINE GOLD SOLUTIONS LAST?

SUGGESTED DOSAGES FOR
EQUINE GOLD LIQUID SOLUTIONS:

UP TO 12.2 hh – 5 mls TWICE DAILY
12.2 hh – 14.2 hh – 10 mls TWICE DAILY
14.2 hh – 15.2 hh – 12.5 mls TWICE DAILY
15.2 hh – 16.2 hh – 15 mls TWICE DAILY
16.2 hh AND ABOVE – 15-20 mls TWICE DAILY

ESTIMATED – BASED ON USAGE FOR
EQUINE GOLD LIQUID SOLUTIONS:

1.05 PTS – EVERY DAY USE – 2 WEEKS
2.1 PTS – 4 WEEKS
6.3 PTS – 3 MONTHS
10.5 PTS – 5 MONTHS
**Usage Based on An Average 15hh horse.
Hilton Herbs Releaf Gold – The Natural Pain Reliever