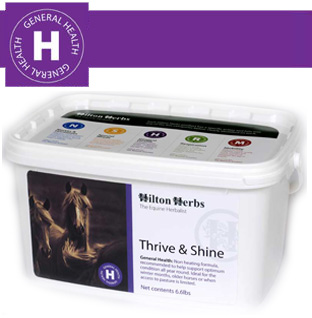 Hilton Herbs Thrive and Shine  – This tasty, non-heating mix is just what you need to help support maximum condition in your horse whatever the season. Rich in oil, protein, vitamins, anti-oxidants, and plant sterols.
Hilton Herbs recommends this mix to help support older horses, particularly in the Winter months, poor doers or when turnout is limited.
Hilton Herbs Thrive and Shine Contains: Steamed Linseed meal, Fenugreek seeds.
Hilton Herbs – The Natural Answer For General Health

In addition Hilton Herbs can provide a diverse range of products formulated from plants found both on the land and in the sea that will help your horse maintain optimum health and vitality throughout its life.
Click Here For Hilton Herbs Equine General Health Products
Hilton Herbs Thrive & Shine – Linseed & Fenugreek – Supports Maximum Conditioning
Discontinued by Manufacturer
HOW MUCH DO I FEED?

HOW LONG DOES EACH SIZE OF HERBS LAST?

SUGGESTED DOSAGES FOR DRY HERBS:

UP TO 12.2 hh – 1 SCOOP DAILY
12.2 hh – 14.2 hh – 2 SCOOPS DAILY
14.2 hh – 15.2 hh – 3 SCOOPS DAILY
15.2 hh – 16.2 hh – 4 SCOOPS DAILY
16.2 hh AND ABOVE – 4-5 SCOOPS DAILY

ESTIMATED – BASED ON USAGE :

6.6 LB TUBS – 8 WEEKS
11 LB TUB/BAG – 6 MONTHS
**Usage Based on An Average 15hh horse.
Hilton Herbs Thrive & Shine – Linseed & Fenugreek – Supports Maximum Conditioning