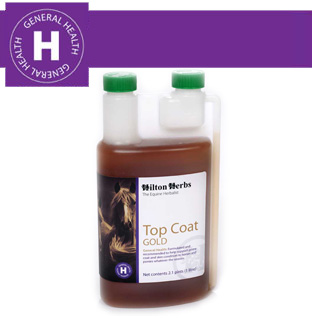 Hilton Herbs Top Coat Gold – The finest quality plant extracts to help your horse's coat and skin withstand the ravages of the seasons. Whether it's winter with its rain, cold and mud or spring and summer with their heat, biting insects and irritations.
The plants in Hilton Herbs Top Coat Gold will help support prime skin and coat condition all year round. If necessary use our soothing, anti-bacterial and anti-fungal Phytobalm on legs, heels or scurfy skin.
Hilton Herbs Top Coat Gold Contains: 1:3 tinctures of – Nettle leaf, Dandelion root, Chamomile flowers, Marigold (Calendula) flowers, Cleaver herb, Kelp, Burdock root with Apple Cider Vinegar & Honey.
Hilton Herbs – The Natural Answer For General Health

In addition Hilton Herbs can provide a diverse range of products formulated from plants found both on the land and in the sea that will help your horse maintain optimum health and vitality throughout its life.
Click Here For Hilton Herbs Equine General Health Products


Hilton Herbs Top Coat Gold – Supports Prime Skin & Coat Condition All Year – Quick Response
Very limited supply left of this discontinued product
HOW MUCH DO I FEED?

HOW LONG DOES EACH SIZE OF EQUINE GOLD SOLUTIONS LAST?

SUGGESTED DOSAGES FOR
EQUINE GOLD LIQUID SOLUTIONS:

UP TO 12.2 hh – 5 mls TWICE DAILY
12.2 hh – 14.2 hh – 10 mls TWICE DAILY
14.2 hh – 15.2 hh – 12.5 mls TWICE DAILY
15.2 hh – 16.2 hh – 15 mls TWICE DAILY
16.2 hh AND ABOVE – 15-20 mls TWICE DAILY

ESTIMATED – BASED ON USAGE FOR
EQUINE GOLD LIQUID SOLUTIONS:

1.05 PTS – EVERY DAY USE – 2 WEEKS
2.1 PTS – 4 WEEKS
6.3 PTS – 3 MONTHS
10.5 PTS – 5 MONTHS
**Usage Based on An Average 15hh horse.
Hilton Herbs Top Coat Gold – Supports Prime Skin & Coat Condition All Year – Quick Response