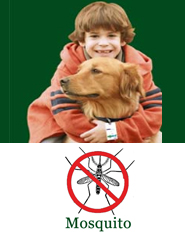 shoo!TAG Dog  Insect Control – Mosquito 
It is no secret that some pets are more than just animals—they are cherished members of the family. In fact, your dog holds such a special place in your heart, that you add him to the annual holiday photo card!
With a bond this strong, it is important to protect your canine from fleas, ticks and mosquitos — the three worst enemies and the largest disease killer of dogs.
We are proud to have created a safe, non-toxic, chemical and poison free solution to controlling fleas, ticks and mosquitoes that uses no sprays, lotions or liquids of any kind. And with the shoo!cycle program, we are the greenest solution out there.
Show your dog how much you love them by protecting them with shoo!TAG® today

shoo!TAG Dog  Insect Control – Mosquito 
| | | | | |
| --- | --- | --- | --- | --- |
| Code: | Size: | Price: | Items: | |
| (THBST-019) | Single Tag | $19.95 | | |
Other Shoo!TAG Products
Protect Your Family & Pets For 4 Months.
No Chemicals, Creams or Sprays to Inhale, Ingest or Absorb.
ShooTag is – Safe – Affordable – Easy To Use.
Manufacturer Guarantees Your Satisfaction!
Why Use Anything Else? Give ShooTAG™ a Shot Today.