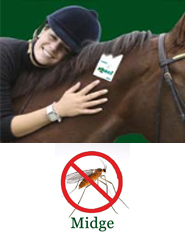 Shoo!TAG Horse Insect Control – Midge
It is no secret that some pets are more than just animals—they are cherished members of the family. In fact, your horse likely holds such a special place in your heart, that you add her to the annual holiday photo card!
Midges / No See-Ums are a terrible nuisance to horses, but with the new Shoo!TAGs made especially to combat them there is finally hope that we can make our horses comfortable again.
Shoo!TAG is proud to have created a safe, non-toxic, chemical and poison free solution to controlling fleas, ticks and mosquitoes that uses no sprays, lotions or liquids of any kind. And with the shoo!cycle program, we are the greenest solution out there.
Show your horse how much you love them by protecting them with shoo!TAG® today

Shoo!TAG Horse Insect Control – Midge
| | | | | |
| --- | --- | --- | --- | --- |
| Code: | Size: | Price: | Items: | |
| (THBST-016) | Single Tag | $19.95 | | |
Other Shoo!TAG Products
Protect Your Family & Pets For 4 Months.
No Chemicals, Creams or Sprays to Inhale, Ingest or Absorb.
ShooTag is – Safe – Affordable – Easy To Use.
Manufacturer Guarantees Your Satisfaction!
Why Use Anything Else? Give ShooTAG™ a Shot Today.