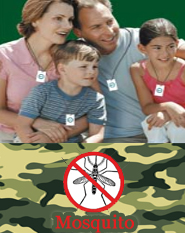 Shoo!TAG Personal Insect Control – Mosquito (Camouflage)
Mosquito is a Spanish or Portuguese word meaning "little fly." But at shoo!TAG®, it is more commonly known by the English word pest!
So, the best minds tell us there are about 3,000 different varieties of mosquitos – but you probably already knew that from being at your friend's barbecue last week.
People Mosquito Shoo!TAG's are great for anyone who leaves the house. Gardeners, Athletes, Sports Fans, kids, parents, grandparents just about anyone you can think of.
Don't get eaten up at your next outdoor event, while sitting in your own back yard or while watching your kids play sports. All the other parents will beg you to tell them why you're not getting eaten up too.
Try Shoo!TAG and you'll be amazed at how effective it is at keeping the mosquitoes off you without having to spray yourself with sticky, smelly chemical repellents. With ShooTag and you can stop worrying about how safe all those chemicals really are you've been spraying and respraying your kids with.

Shoo!TAG Personal Insect Control – Mosquito (Camouflage)
| | | | | |
| --- | --- | --- | --- | --- |
| Code: | Size: | Price: | Items: | |
| (THBST-010) | Single | $19.95 | | |
Other Shoo!TAG Products
Protect Your Family & Pets For 4 Months.
No Chemicals, Creams or Sprays to Inhale, Ingest or Absorb.
ShooTag is – Safe – Affordable – Easy To Use.
Manufacturer Guarantees Your Satisfaction!
Why Use Anything Else? Give ShooTAG™ a Shot Today.