If you're looking for a inexpensive, non toxic, chemical free way to protect you and your family Shoo!TAG is the product you've been looking for – safe for all ages. No more spraying chemicals on you and your loved ones. No more worrying about your kids getting it in their mouths or eyes.  No more having to reapply all those spray on repellents that are sticky, smelly or greasy. No more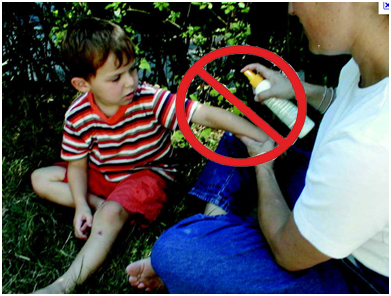 spraying and respraying chemicals that absorb into your skin every couple hours.
Shoo!TAG is 100% non toxic, chemical free and safe.
 Do you have a pool or pond?
–           Do you work outside in the heat?
–          Do your kids come home with bug bites all the time?
–          Do you know someone who is allergic to insect bites?
–          Do you like to jog or bike?
–          Do you live by mosquito infested woods?
–          Do you enjoy outdoor sports?
–          Do you get eaten alive watching your spouse or kids play sports?
These are just a few of the scenarios where you can simply put your ShooTag on a lanyard around your neck or stick the ShooTag in a pocket and go on enjoying yourself without worrying about insects bothering you.
The fact that Shoo!TAG is Waterproof  and last up to 4 months are also  huge benefits.
People Insect Control
Shoo!TAG Products
Protect Your Family & Pets For 4 Months.
No Chemicals, Creams or Sprays to Inhale, Ingest or Absorb.
ShooTag is – Safe – Affordable – Easy To Use.
Manufacturer Guarantees Your Satisfaction!
Why Use Anything Else? Give ShooTAG™ a Shot Today.