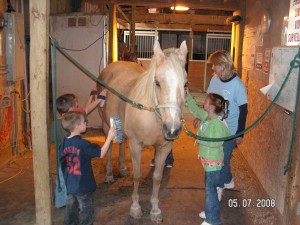 Daily we hear about abuse in children, women and let me add horses.  None of it is right.  Not by a stretch.  One of the abuses are emotional ( the kind no one see's or believes in all three cases. It destroys the spirit, it turns the children, women and horses inward.  they start to stay away from groups, or family events.  The horses hang their heads in their stalls with their butts turned to the door.  They don't respond to voice.  Any voice could be the next abuser.  Do you see the pattern?  I could be talking about  children, women or horses.  The emotional side of abuse no one see's everyone is too busy with their lives.  But look into their eyes.  Take a moment and see if the sparkle of life is there.  With a child, do you see the twinkle in their eyes and the giggling a child does non stop when they are playing?  And the women, when they smile do their eyes smile or just their lips?   With the horse, does he look at you or does he look thru you? If he does look at you is it for a moment then he looks away.  I can say yes to the horse the child and the women.  Take a minute out of your busy day and smile at a stranger and mean it.  Your day will be better for it.
The second horrible abuse is physical.  Without going into any detail whats so ever it clearly is the most noticeable and sad.  It happens in all three, children, women and horses.  The physical destroys the SPIRIT.  With out the spirit you can not live.  You need that in your daily living to function.  That of course goes for all three mentioned above.  A lot of times it takes years to recover from the physical abuse.  The recovery can happen and with that recovery children, women and horses if given the chance can become whole once again.  With that HEALING they tent to give back and pay it forward.  With the right help they can put their past behind them and move forward, including the horse.  And at the right time the horse can reach out to that abused child or woman.  Together they begin a HEALING process that no one can ever explain.
If you know a child or women who needs HEALING find a great rescue barn and take them their to feel the energy that the rescued horses give off.  Just a touch, a brush or a kiss can change their lives forever.
I run THE HEALING BARN in Ohio.  When I started this barn it was only for injured horses.  The plan was to bring in the hurt horse, make them well naturally and send him home.  Well, the horses came.  All kinds of issues.  Not necessarily abused cases at first, more injury from over use or twisted this or that.  Once the horse became better the owners they wanted their horses to stay.  And so they did.  Within 1 month the barn was full with healed horses and happy owners.  I have always said this is my path and I lift it up to a higher POWER.  So what ever I need to do I will do.  It didn't take long and people where calling and saying they said put my horse down no one can help him can you?  And of course that would be a yes.  The left for dead horses came and became well and gave back to the visitors that would stop in and see the barn.  I added more stalls and started getting rescues from the humane societies.  Some off those cases where clearly all the above abuses.
The Healing of the horses seemed easy not a big deal.  Time and love Heals every thing and every one if it's meant to be.  What I did not realize and what was happening, was it really was the desperate people and families that would come to the barn for the energy of the rescued and saved horses.  People would feel the horse's strength and be able to go forward in their daily lives.  They would talk about the greatness of the horses and be able to deal with more issues in their lives.  They felt a strength that made them stand up to their emotional and physical abuser's and were able to get out of those situations.  The were beginning to become whole.
And so the PATH took a 90 degree turn and who knew the barn was not just for the horse but for every one.
For more stories log on to sponsorahorse.org
Until we meet a gain,
Nancy