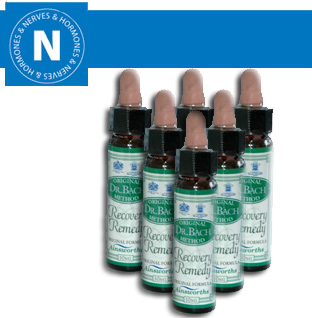 Hilton Herbs Bach Flower Recovery Remedy – The best known of all the flower remedies.
A unique combination of five Bach Flower remedies, considered by many to be an all purpose comforter and indispensable aid for the alleviation of stress and nervousness in any living creature.
In times of difficulty Hilton Herbs Bach Flower Recovery Remedy can be given to both horse/dog and rider/handler.
In fact, so highly do we rate it that we believe everyone should have a bottle of this remedy handy at all times.
Hilton Herbs Bach Flower Recovery Remedy Contains: Cherry Plum, Clematis, Impatiens, Rock Rose, Star of Bethlehem.
Hilton Herbs – The Natural Answer For Calm & Confident Dogs

Hilton Herbs' range of dried and liquid herbal mixes, homeopathics, sprays, and Bach Flower essences will help you support your pet, whether it is highly strung, nervous, over-excitable, hormonal, a show animal with competition nerves, a pregnant bitch or a rescue case.
Click Here For Hilton Herbs Canine Nerves & Hormone Products



This Item is No Longer Available, we are sorry for the inconvenience.
Hilton Herbs Bach Flower Recovery Remedy – Alleviation Of Stress and Nervousness
Hilton Herbs Bach Flower Recovery Remedy – Alleviation Of Stress and Nervousness