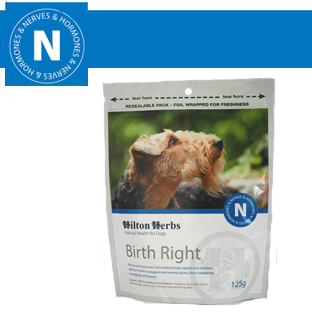 Hilton Herbs Birth Right – The better health your bitch is in, the more likely she is to sail through her pregnancy and whelping.
A good diet, along with appropriate exercise and veterinary care, is vital preparation for whelping.
Formulated by Hilton Herbs' medical herbalist, this mix contains herbs to help support and maintain optimum health in pregnant and nursing bitches, from conception, to whelping, and beyond.
Use Hilton Herbs Birth Right to help support your mother-to-be whatever her breed.
Hilton Herbs Birth Right Contains: Raspberry leaves, Milk Thistle, Nettle leaf, Kelp, Cleavers herb, Dandelion leaf and Rosehip shells.
We advise to start giving Hilton Herbs Birth Right from the beginning of the fourth week of pregnancy and for two weeks following the birth.
Hilton Herbs – The Natural Answer For Calm & Confident Dogs

Hilton Herbs' range of dried and liquid herbal mixes, homeopathics, sprays, and Bach Flower essences will help you support your pet, whether it is highly strung, nervous, over-excitable, hormonal, a show animal with competition nerves, a pregnant bitch or a rescue case.
Click Here For Hilton Herbs Canine Nerves & Hormone Products
Hilton Herbs Birth Right – Support Your Mother-To-Be Whatever Her Breed
                                Discontinued by Manufacturer
HOW MUCH DO I FEED?

HOW LONG DOES EACH SIZE OF HERBS LAST?

SUGGESTED DOSAGES FOR DRY MIXES:

UP TO 11 lbs – ½ SCOOP PER DAY
11 lbs – 22 lbs – 1 SCOOP PER DAY
22 lbs – 44 lbs – 2 SCOOPS PER DAY
44 lbs – 66 lbs – 3 SCOOPS PER DAY
66 lbs – 88 lbs – 4 SCOOPS PER DAY
88 lbs AND ABOVE – 5 SCOOPS PER DAY

DRY MIXES IN A 4.4 oz BAG 8.8 oz BAG X2:

UP TO 11 lbs – ½ SCOOP PER DAY (35 WEEKS)
11 lbs – 22 lbs – 1 SCOOP PER DAY (19 WEEKS)
22 lbs – 44 lbs – 2 SCOOPS PER DAY (9 WEEKS)
44 lbs – 66 lbs – 3 SCOOPS PER DAY (6 WEEKS)
66 lbs – 88 lbs – 4 SCOOPS PER DAY (4-5 WEEKS)
88 lbs AND ABOVE – 4-5 SCOOPS PER DAY (3-4 WEEKS)
Hilton Herbs Birth Right – Support Your Mother-To-Be Whatever Her Breed