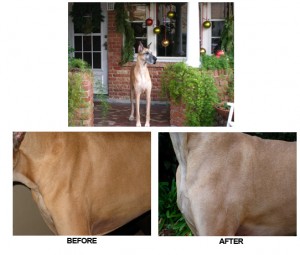 Finn's Story: In May of 2008 Finn woke up with a stiff neck one morning, then when going outside she chased a squirrel and slipped sideways in the mud. By the end of the day, Finn was having trouble walking and was knuckling over. We brought her to the emergency vet that afternoon and she was diagnosed with Wobblers.  Since Finn was in such bad shape she stayed at the emergency vet/specialist for about one week. She had an MRI which showed a slight disc bulge in her neck. After about 7 days Finn was able to come home, but she had atrophy in her shoulder that our vet said was either permanent nerve or muscle damage, that the muscles would probably never return to their original state.In July, I was put in touch with Corri and we started Finn on CDRM. Within a few short weeks we started to see progress in Finn's shoulder and by the end of August most of her muscle had returned.. Finn's shoulder is now completely back to normal.  She is a happy, healthy girl!
Sulley's Story: Back in October of 2008 we came acrossed a woman who rescues Pit Bulls and other canine friends in need through MySpace.  Devilyn had just been given a Pit Bull that was extremely emaciated and was nothing more than skin and bones.  Once we saw a picture of Sulley we knew we wanted to help!  The Healing Barn donated months worth of Hilton Herbs to Devilyn for Sulley in order to boost his immune system and add vitamins and minerals back into his diet.  This would give him the best chance at a full recovery!  We recently received an email from Devilyn about Sulleys progress:
We are in debt to you….. Wanted to update you on Sulley.  He made a full recovery and was adopted!!!  We actually  used some left over herbs on Willow our Heartworm treatment dog who was having complications.  She is now home and doing wonderful! 🙂  Our newest little girl's name is Alice.  You will see her story on out website, and we're doing a bulletin about her soon.  She was born at animal services and was raised in a tiny cage, and her legs are forming the wrong way, she has a massive staff infection of the skin, and her immune system is nothing so she catches everything.  I'm using the very last of the Natural D-fence (Immunity Plus) you donated to us, and I would like to order more for her because she will be here a little long term until we can ger her on her feet…

I swear by you all now, because it helped 2 of my guys who were really not supposed to make it, and now with only being on the herbs for 3 days Miss Alice's coat is shiney and she looks better already!!!  I want to put them in all my adoption packets, and I'm making a section on my website for you guys.  You've got me for life!!!:)  As soon as I actually get some more funding in my own life going, I'm going to order this for my own dogs.  I absolutely want to start on this!

I guess this whole huge rant is to tell you how much I appreciate you, and everything.  Thank you so much in our battle to save these guys!

This is a great success story and we are happy to hear Sulley and the others are making full recoveries.  They deserve to enjoy life to the fullest:)
Sally from Vail, AZ:  Thank you so much for your quick reply.  I spoke with Corri at The Healing Barn and my order was taken care of right off.  I appreciate being able to place my order over the phone and what a bonus to be able to support a business that rescues animals and uses the very products that I want for my horses.  Thanks again!
Lee from Pleasant Valley, NY:  I conducted an experiment with Canine Top Coat to see if it made a difference in my golden retriever's coat.  I used a bag, then waited several months.  Her coat began to look ratty.  Now after using Top Coat a second time for 2 months, I am convinced it significantly improves the apperance.  Thank you!
Lois from Midland, MI: Package came today. Haven't even opened yet. Thank you for such great service.
Kevin Gilbertsville, PA:Thanks Corri!!!  Bubba and Charm are looking so good with the Herbs and salt licks they had all winter long.  They are deep brown, shiny, and couldn't be more happy.  The blacksmith was over about 2 months ago, and he was impressed with the health, color, and personality that my boys have.   I think I just added another 10 or so years to their lifespan.  Thank you so much, and will purchase more in the future.  Right now we have 1 1/2  salt licks left, and approximately 1/2     tub of veteran health, and 1 full tub of hoof and health left for them.  It's     amazing how these herbs helped them through the winter.   Like I said, I will  purchase more very soon.