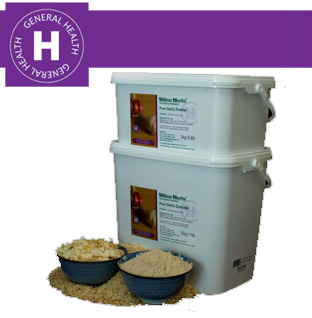 Hilton Herbs Pure Garlic Granules, rich in bio-available Sulphur, Oil and B group vitamins for horses and dog to help maintain general health and support the immune system.
Owners may find the Hilton Herbs Pure Garlic Granules more suitable for fussy animals.
It is believed that garlic is one of the most effective natural healing substance in the world. It is popularly used to treat equine respiratory diseases and infections in the horse's lungs.
Garlic from Hilton Herbs is rich in Selenium and Sulphur. Sulphur is recognised as having blood cleansing properties that are useful in treating and preventing equine disease. It is also believed to contain over 25 germ-killing compounds.
Hilton Herbs Pure Garlic Granules Contain: 100% Pure cold-pressed dehydrated Garlic Granules .
Hilton Herbs – The Natural Answer For General Health

In addition Hilton Herbs can provide a diverse range of products formulated from plants found both on the land and in the sea that will help your horse maintain optimum health and vitality throughout its life.
Click Here For Hilton Herbs Equine General Health Products
Hilton Herbs Garlic Granules – Maintain General Health & Immune System Support