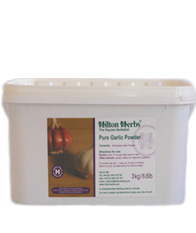 Hilton Herbs Garlic Powder  The most economical form for you and your horse! Whichever form of Hilton Herbs garlic you choose to give your horse, you can be confident that it's the very finest quality.
Our Chinese Suppliers take the greatest care when processing the fresh bulbs to ensure that the plant's active constituents are preserved. Hilton Herbs Garlic Powder is rich in Allicin, Sulphur, B vitamins and oil.
Interesting Note: Garlic is known as one of the 'plague herbs' and was an ingredient in 'Thieves Vinegar'. This was a concoction used by the poor individuals who were press ganged into burying victims of the 'Black Death' to help protect themselves from the plague!
Hilton Herbs Garlic Powder Contains: 100% Pure dehydrated garlic
Hilton Herbs – The Natural Answer For General Health

In addition Hilton Herbs can provide a diverse range of products formulated from plants found both on the land and in the sea that will help your horse maintain optimum health and vitality throughout its life.
Click Here For Hilton Herb Equine General Health Products
Hilton Herbs Garlic Powder – Supports a Calm, Healthy & Balanced Immune System
 

Currently unavailable