We understand how important the decision of choosing the best fence to keep your animals safe is.
We have created this page, to allow you to acquaint yourself with the ElectoBraid products, their purpose and costs.
1-877-300-2638
Please feel free to order from this page.
Any Questions? Call us Toll-Free at 1-877-300-2638
We are always pleased to help.
Electrobraid 1000′ Reels.
ElectroBraid™ rope is made from high quality braided polyester fibers that won't unravel or break. The high strength braid protects the copper wire conductors that are formed in helical coils like springs to allow for bend and stretch.  The copper wires won't break up to 1,350 pounds tension.
Required Accessories
Digital Volt Meter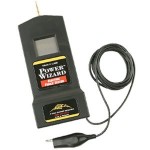 Electrobraid Insulators
Roller Insulators – Bag of 10
The roller style insulators are easy to install with 2.5 in screws.
The roller separates from the bracket to allow insertion of the Electrobraid rope without the need for a free end.
The Roller insulator is used to start or terminate a

strand of Braid™ at an End Post.

For Corners or any change in direction.

Webbing No Longer Available.

The free floating roller design makes

tensioning around corners easy.
The strength and, UV stability, ensures a no maintenance 20 year installation.
2 1/2″ Screws Ordered Separately – See Below
For Line Posts
Electrobraid Line Post Insulators
Line Post Insulators may be used rather than the more costly Roller Insulators, for line posts, or simply to insulate the braid from coming into contact with anything that might otherwise ground it, such as the cross beam of an H-Braced Corner Post.
Available in either black or white.
| | | |
| --- | --- | --- |
| | | |
| Used for Wood In-Line posts when the posts are in a straight line with no changes in direction – either side to side, or up or down. | Line-Post Insulator is also an economical insulator for brace posts | Line-Post Insulator can be used on existing wood, vinyl of pipe fences. |
HEAVY DUTY Post Insulators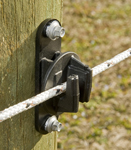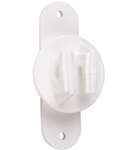 Black Heavy Duty Line Post Insulators – Bag of 25 – $8.99
White Heavy Duty Line Post Insulators – Bag of 25 – $8.99
SUPER DUTY Post Insulators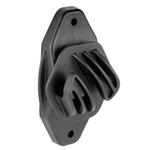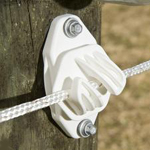 Black Super Duty Line Post Insulators – Bag of 20 – $21.99

White Super Duty Line Post Insulators – Bag of 20 – $21.99


For T-Posts
   T-Post Insulators for Standard T-Posts
The T-Post insulators will fit any standard small, medium or large T-Posts and    accommodates the Braid™.
T-Post Toppers – Caps
  T-Post Toppers – Caps
Note the T-Post cap which serves as an insulator for the top line of Braid™ as well as    reduces the spear hazard T-Posts can represent
Offset Insulators – For Top Board Protector Braid on Existing Fences
| | |
| --- | --- |
| | |
| 2″ Off-Set Insulator |   |
| Used to mount ElectroBraid™ on existing board or wire mesh fence to reduce stocking pressure and/or cribbingThis technique is most often called a top board protector. It is also useful for excluding predators by running several – low to the ground – strands of Braid™ on the outside of an existing fence |   |
Energizers
Solar and Standard Energizers


Please Click Here to Visit Our Energizer Page
for Critical Information in Selecting a Charger & Fence Minder

Electrical Accessories
Copper Split Bolt Connectors  – 10 per pkg.
Use Copper Split Bolt connectors to splice, terminate braid and for electrical connections.
| | | |
| --- | --- | --- |
| | | |
| Split Bolts are used to begin or terminate a strand of Braid. | For electrical connections. | Splice lengths of Braid together. |
Copper Lead-Out (Hook-Up) Wire – 200 Foot Reel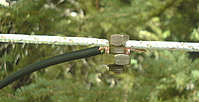 A Copper, heavily insulated (15,000v) wire is necessary to prevent electrical leakage and electrolysis at connection points.
Note: NEVER substitute with wire that is not copper or properly insulated.
This Lead-Out wire is used to Connect your Energizer to the fence and to your 3 ground rods.
It is also used to supply power between the Electrobraid strands at gates and end posts.
(Copper Lead-Out is black wire)
Cut Off Switch – On/Off Switch
SPECIAL OFFER  –  FREE SHIPPING on Orders Over $75
Use Coupon Code – THB75
Neutral Plate Connector
  A Neutral Plate Connector allows you to take power to or from an existing fence wire
(not Braid™) fence using the copper lead-out wire. The neutral plate connector keeps       the copper wire from contacting the steel wire by means of a plate in between the two.    This prevents the eventual shorting out of the wires from electrolysis (corrosion).
Fence Alert
Note: FenceAlert works with all "pulsed" energizers.
Light flashes when low or intermittent voltages are detected
Can be seen from up to 1 mile
Powered by a CR2032 lithium button cell battery – readily available locally
No ground lead required
Up to 5 years battery life
1 year warranty
The FenceAlert can be used on permanent and temporary fencing. The tall clip allows the FenceAlert to be attached to fencing wire from 16 gauge to 8 gauge, or onto electric tape up to 1 1/2″.
Warning Sign
To Warn Visitors That The Fence is Electric
Electric fences should be marked every 200-300 feet. Check with your County Extension    Office or, in a city, with the Clerk's Office to find out your local electric fencing ordinances
The Brilliant Yellow Color attracts attention that the fence is electrified.  The heavy plastic    easily attaches to the braid strand.
6 Foot Copper Ground Rod.
6 FT Copper Clad Ground Rod.
Used to ground the system along with copper hook-up wire.
A minimum of three Ground Rods are required.
More maybe necessary with larger paddocks or dry soil conditions.
Note: Over 90% of problems with electrifying fences is attributed to insufficient grounding.
It is essential that you use copper clad ground rods, copper lead-out wire, and copper split bolts connectors
to ensure against electrolysis (corrosion) preventing your fence from functioning properly.
ElectroBraid GRC-EB Ground Clamp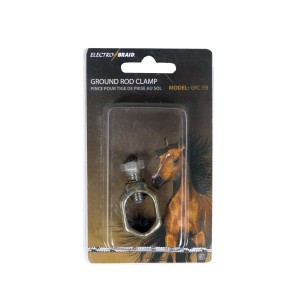 Need a top-notch connection of ground wire to ground rod? We have the product for you.
The ElectroBraid Ground Clamp helps to make a superior connection of ground wire to ground rod. It's heavy duty construction ensures long usage. Packed 1 clamp per bag.