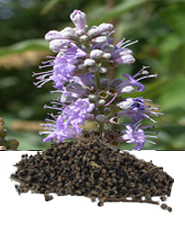 Hilton Herbs Vitex agnus-castus (Monks Pepper seed or Chaste Tree berries)  – whole seed

The leaves and tender stem growth of the upper 10 cm (4 inches), along with the flowers and ripening seeds, are harvested for medicinal purposes. The berries are harvested by gently rubbing the berries loose from the stem.
This Mediterranean herb has been used for centuries to help maintain a balanced hormonal system in both female and male animals. Ideal for ladies prone to phantom pregnancies.
Hilton Herbs Vitex Agnus-Castus contains: Vitex Agnus Castus Seed
Hilton Herbs – The Natural Answer For Herbs & Tinctures

Hilton Herbs' range of dried and liquid herbal mixes, homeopathics, sprays, and Bach Flower essences will help you support your horse, whether it is highly strung, nervous, over-excitable, hormonal, a show animal with competition nerves, a pregnant mares or a rescue case.Valerian free blends are also available.
Click Here For Hilton Herbs Equine Nerves & Hormone Products
Hilton Herbs Vitex Agnus Castus Seed – Supports a Calm, Healthy & Balanced Hormone System
Code:
Size:
Price:
Items:
(U00602)
(U00606)
10.5oz Bag
1.3 lbs Bag
$16.00
$30.00